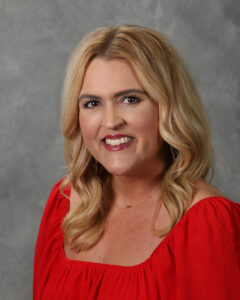 Dear Members and Supporters,
I am honored, thrilled, and humbled to address you as the President of the Junior League of Texarkana. As we embark on a new year, I am filled with enthusiasm and dedication to uphold the values and mission that make this organization so exceptional.
The Junior League of Texarkana has a long-standing legacy of empowering women and promoting lasting community change in the lives of those we serve. Our commitment to developing women to reach their full potential and improving communities through effective action is what sets us apart. For 98 years, we have worked tirelessly to create a positive impact on the lives of women and families in the Texarkana community, and I am extremely proud to be part of such a transformative organization. In the pursuit of our mission, we will continue to focus on the following key pillars: literacy, hunger, and poverty.
As we look to the future, we are excited about the opportunities and challenges that lie ahead, and we are reminded of the incredible strength that lies within our diverse and passionate membership. Our mission remains as relevant and vital as ever. By identifying the unique challenges faced by our community, we can continue to develop targeted programs and projects that generate lasting change. I am confident that, together, we can make a significant difference in the lives of those we touch, leaving a legacy of empowerment and positive change.
I extend my heartfelt gratitude to all our members, sponsors, and supporters for your unwavering commitment to our mission. Your dedication, passion, and generosity fuel the engine of our organization, and we are extremely thankful for each one of you. You are what guides the success of the Junior League of Texarkana, and we couldn't do it without you! Whether it's donating your time, contributing funds, or sharing our vision with others, your involvement is what keeps us moving forward.
To our members, I want to express my deep appreciation for your dedication and hard work. Your passion for service and your willingness to make a difference are the driving forces behind our success. I am humbled to be surrounded by such an inspiring group of women and honored to lead a team of passionate and dedicated women who are committed to making a positive impact in our community.
In closing, I invite each one of you to be a part of our journey. Whether you are a long-time supporter, seeking to make a difference or someone just learning about us, there is a place for you in the Junior League of Texarkana. I encourage each of you to actively participate, share your ideas, and collaborate with us. Together, we can build a brighter future and leave a lasting legacy of positive change for all.
I also encourage everyone to stay connected with the Junior League of Texarkana through our website and social media channels. This is where we will share updates, success stories, and opportunities for you to get involved.
With warmest regards and gratitude,
Kelly Harvin
President 2023-2024
The Junior League of Texarkana, Inc.