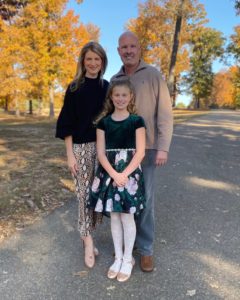 Friends,
This year marks my eighth year as an active member in the Junior League of Texarkana. There are days when I feel as if that first year was just yesterday, but, in reality, life is quite different now compared to then. My League years have seen me through marriage, motherhood from the preschool to tween years, and changing professional roles and responsibilities. JLT has been one of the most consistent aspects of my adult life, and what a blessing it has been.
This has been a year of great success for our League. We have proudly provided services to local children through our signature community projects: Open Hearts Food Pantry, Packs for a Purpose, Shoes for the Soul & Clothes for a Cause, Spring Into Reading, and Teacher Take Wing. Through our Community Assistance Fund, we have provided needed funding to local non-profit organizations. Our New Members have developed a project of their own, Fostering Love, in support of For the Sake of One. Of course, none of this would be possible without the support of our community. We were overwhelmed with support at our 34th annual holiday market, Mistletoe Market, which received an updated name and location this year, and we are anticipating the return of our annual spring fundraiser, Clubs & Bugs Fore a Cause. Junior Leaguers truly live up to our motto: Women Building Better Communities!
We talk at lengths about what JLT does for our community. Community impact is important and should be highlighted, but we mustn't forget what this work does for us individually, as women. The relationships we develop and the training we receive through our service is truly what sets the Junior League apart from other organizations. We develop women!
As we wrap up the current year and prepare for a new one, I hope you will join me in reflecting on the work we've done, the memories we've made, and the ways we've grown. There is much to celebrate!
Thankful to be IN LEAGUE with you,
Monica Harrison
2019-20 JLT President