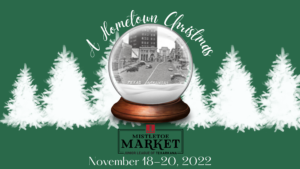 Dear Food Vendor,
We are excited to return to the Arkansas Convention Center for the 2022 Mistletoe Market and look forward to your consideration of joining us. The Mistletoe Market is scheduled for November 18-20, 2022.  
Food Truck Rental Rates: $150
General Public Market Hours:
Friday, November 18, 2022                 General Shopping         12:00pm – 5:00pm
Saturday, November 19, 2022            General Shopping             9:00am –6:00pm
Sunday, November 20, 2022               General Shopping         12:00pm – 5:00pm                          
Mistletoe Market will also have special events before and after the general public market hours where food trucks will not be open. These special events include Mistletoe & Mimosas and Jingle and Mingle.
2022 Food Truck Vendor Application Google Form
Please complete and return your application to indicate your interest in the 2022 Mistletoe Market.  We will begin reviewing Applications on September 5th.  Those applications received by September 5th will be notified of their status no later than September 19th.  Applications received after September 5th will be notified in a timely manner.  A NON-REFUNDABLE fee of FIFTEEN DOLLARS ($15.00) MUST be included with each Food Truck application. If you are selected to participate, we will then forward a Contract to you.  If a contract is forwarded to you, one-half of your rental rate will be required by October 17, 2022 with final payment due in November.
In the event that we feel the safety and health of our members, vendors, and patrons could be at risk due to a pandemic, similar or due to coronavirus, we reserve the right to cancel Mistletoe Market with minimal notice (minimum one-week notification). We will be happy to refund your Food Truck rental amount. If you decide to not attend Mistletoe Market for other reasons, we will not refund any portion of your booth rental. 
If you have any questions, please contact the Junior League office at (870) 772-9948, email us at mtmvendors@gmail.com, or visit our website at www.jltexarkana.org.
We appreciate your interest and support of the 2022 Mistletoe Market.  We look forward to hearing from you soon!  
​
Your Vendor Co-Chairs,
Paige Morphew, & Tiffany Studebaker